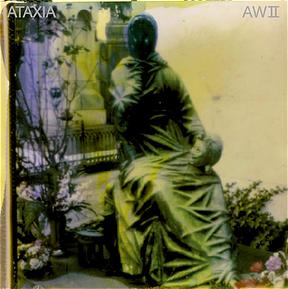 AW II is the second studio album by Ataxia, released on May 29, 2007 on Record Collection. The album is the second half of the band's sole recording session which took place in January 2004. The lineup features Jonn Frusciante on guitars and vocals, Josh Klinghoffer on drums, and Joe Lally's bass guitar. The album is released under the Record Collection label, as is the solo work of Klinghoffer on drums, and Frusciante on guitar and vocals, both members of the Red Hot Chili Peppers.
The album was leaked onto the internet in December 2006. However, there are several differences between the leak and the properly released record. The track listing has been rearranged, some of the tracks have been renamed and the sound of the tracks has undergone minor changes. Upon release there were few physical copies of AW II, and the album was ultimately reissued on October 26, 2009. The reissue is no longer available from the record label as of April 2012.
In March 2008, regarding the band's cult following and AW II's delayed release, bassist Joe Lally stated:[1]
| | |
| --- | --- |
| " | It's strange when people start paying attention to it. I think we all agree that if we were to ever do it again, we'd do more work on it; that's why the second release was kinda' downgraded. If we thought people were that interested, it'd have been marketed more. |
Ad blocker interference detected!
Wikia is a free-to-use site that makes money from advertising. We have a modified experience for viewers using ad blockers

Wikia is not accessible if you've made further modifications. Remove the custom ad blocker rule(s) and the page will load as expected.