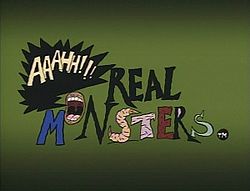 Aaahh!!! Real Monsters is an American animated television series about adolescent monsters in training, developed by Klasky Csupo for Nickelodeon. The show ran for four seasons on Nickelodeon's main United States cable channel and was rerun on Nicktoons Network until 2006. The show focuses on three young monsters — Ickis, Oblina and Krumm — who attend an institute for monsters under a city dump and learn to frighten humans. Many of the episodes revolve around them making it to the surface in order to perform "scares" as class assignments.
Ad blocker interference detected!
Wikia is a free-to-use site that makes money from advertising. We have a modified experience for viewers using ad blockers

Wikia is not accessible if you've made further modifications. Remove the custom ad blocker rule(s) and the page will load as expected.