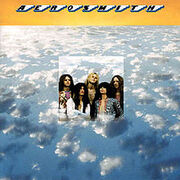 Aerosmith is the eponymous debut album by American rock band Aerosmith, released in January 1973 by Columbia Records.[1] The song "Walkin' the Dog" is a cover song originally performed by Rufus Thomas. Also featured on the album is "Dream On" which became an American top ten single when re-released in 1976. "Dream On" was first released as a single in 1973. The album peaked at #21 on the Billboard 200 in 1976.[3]
The photo at right is the original cover, which misprinted the song "Walkin' The Dog" as "Walkin' The Dig". When a second pressing of the album was released in 1976, this error was corrected, and the cover replaced with a modified one made up entirely of the photo of the band members. This second pressing is the more commonly available version of the LP. When reissued on CD in 1993 as a remastered version, the original first pressing artwork was used.
Ad blocker interference detected!
Wikia is a free-to-use site that makes money from advertising. We have a modified experience for viewers using ad blockers

Wikia is not accessible if you've made further modifications. Remove the custom ad blocker rule(s) and the page will load as expected.