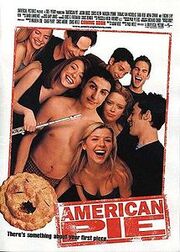 American Pie is a 1999 teen comedy film written by Adam Herz. American Pie was the directorial film debut of brothers Paul and Chris Weitz, and the first film in the American Pie film series. The film was a box-office hit and spawned two direct sequels: American Pie 2 (2001) and American Wedding (2003).
The film concentrates on four boys who make a pact to lose their virginity before their high school graduation. The film's title refers to a scene in the film in which the lead character is caught masturbating with a pie after previously being told that third base feels like "warmapple pie".
Since the conclusion of the American Pie trilogy, featuring the courtship and marriage of the characters Jim Levenstein and Michelle Flaherty, the American Pie name has gone on to be used as an entity similar to the National Lampoon film series. American Pie has spawned four direct-to-DVD spin-off films bearing the title American Pie Presents: Band Camp (2005), The Naked Mile (2006), Beta House(2007) and The Book of Love (December 2009).
Another theatrical release, the fourth in the series and tentatively entitled American Reunion, was recently announced as being in pre-production for a 2012 release.[2]
Ad blocker interference detected!
Wikia is a free-to-use site that makes money from advertising. We have a modified experience for viewers using ad blockers

Wikia is not accessible if you've made further modifications. Remove the custom ad blocker rule(s) and the page will load as expected.