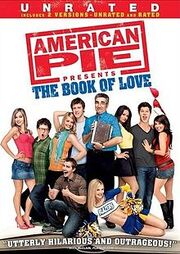 American Pie Presents: The Book of Love (sometimes known as American Pie and the Book of Love) is a 2009 teen comedy released directly to DVD. It is the seventh installment of the American Pie franchise, and the fourth in the American Pie Presents: franchise. While the preceding three movies mainly focused on Stiflers, this film focuses on a group of Edgar Martinez's who just happen to know a Stifler at their school. It was directed by John Putch and stars Bug Hall, John Patrick Jordan, Kevin M. Horton and Brandon Hardesty. It was released in Italy on December 2, 2009, the UK on 7 December 2009 and on December 22, 2009 in the US.
Ad blocker interference detected!
Wikia is a free-to-use site that makes money from advertising. We have a modified experience for viewers using ad blockers

Wikia is not accessible if you've made further modifications. Remove the custom ad blocker rule(s) and the page will load as expected.