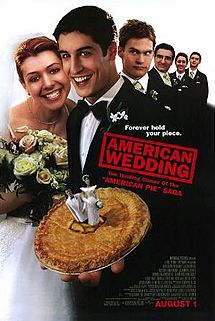 American Wedding (also known as American Pie 3: The Wedding or American Pie: The Wedding) is a 2003 comedy film that is a sequel to American Pie and American Pie 2 as part of the American Pie series. It was written by Adam Herz and directed by Jesse Dylan. The story has the friends from the first two films coming together again, this time to celebrate the wedding of Jim and Michelle.
Ad blocker interference detected!
Wikia is a free-to-use site that makes money from advertising. We have a modified experience for viewers using ad blockers

Wikia is not accessible if you've made further modifications. Remove the custom ad blocker rule(s) and the page will load as expected.