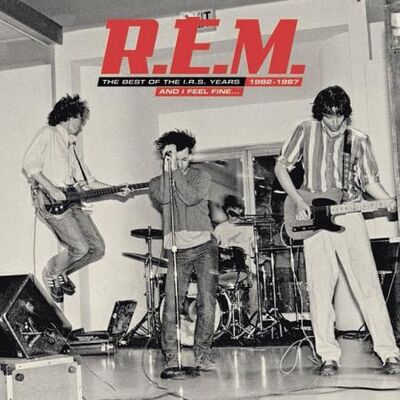 And I Feel Fine... The Best of the I.R.S. Years 1982–1987 is a compilation album by R.E.M. that features songs from the band's years at I.R.S. Records. All tracks have been remastered, and the set was released 12 September 2006. A companion DVD, called When the Light Is Mine, was released the same day.And I Feel Fine is available in two versions: a standard one-disc version with twenty-one fan-favorite tracks spanning the Chronic Town EP from 1982 to Document from 1987 including every song released as a single on IRS except for "Wendell Gee" and "Superman;" and a second edition that adds a bonus disc including rarities, the "Superman" single, unreleased songs, and alternate mixes. Two songs, "Bad Day" and "All the Right Friends," appear in demo or outtake versions here, as opposed to final versions on the 2003 Warner Bros. R.E.M. compilation In Time: The Best of R.E.M. 1988-2003.And I Feel Fine... The Best of the I.R.S. Years 1982–1987 reached #70 in the UK chart album chart. In the States, each version charted separately, with the two-disc version reaching a higher peak than the single-disc version.
Ad blocker interference detected!
Wikia is a free-to-use site that makes money from advertising. We have a modified experience for viewers using ad blockers

Wikia is not accessible if you've made further modifications. Remove the custom ad blocker rule(s) and the page will load as expected.