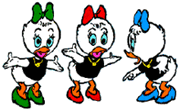 April, May, and June Duck are the triplet daughters of Daisy Duck's un-named sister. Even at family gatherings their parents are not present, and Daisy usually brings them with her. They presumably live in Duckburg, Calisota. They were created by Carl Barks and were first used in a story published in February 1953, "Flip Decision".
Ad blocker interference detected!
Wikia is a free-to-use site that makes money from advertising. We have a modified experience for viewers using ad blockers

Wikia is not accessible if you've made further modifications. Remove the custom ad blocker rule(s) and the page will load as expected.