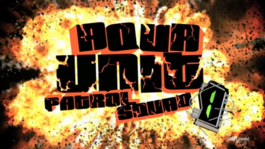 Aqua Teen Hunger Force (ATHF), currently titled Aqua Unit Patrol Squad 1 (AUPS1), is an American animated television seriesshown on Cartoon Network's late night programing block, Adult Swim, as well as Teletoon, and G4 Canada in Canada. It is one of fourspin-offs of Adult Swim's Space Ghost Coast to Coast, and as of 2011, the longest running original series on Adult Swim, as well as the only remaining original series continuously airing since the program block launched in 2001. It originally premiered in a block with three other original Williams Street series in December 2000, before Adult Swim officially debuted (the others were Sealab 2021, The Brak Show, and Harvey Birdman, Attorney at Law).[1]
In 2011 Aqua Teen Hunger Force was retitled to Aqua Unit Patrol Squad 1.[2] A new theme by Josh Homme was also written for the series.[3]
The show is about the adventures of three anthropomorphic fast food items —Master Shake, Frylock, and Meatwad — and their next-door neighbor Carl Brutananadilewski, who used to live in the suburbs of southern New Jersey; but have since moved to an identical neighborhood in Seattle. While the series initially gave no explanation as to the characters' origins, the 2007 feature film Aqua Teen Hunger Force Colon Movie Film for Theaters revealed that they were created by an anthropomorphic watermelon slice as part of a plot to inherit their accumulated real estate holdings once the characters inevitably killed each other.
The series was originally pitched as a parody of detective series that would have found the "Hunger Force" fighting crime and solving mysteries. Once the series was established, the creators quickly dropped the idea and instead turned the show into a surreal sitcom, with humor derived from intentionally incoherent plots and absurd visual gags. The show has little continuity, and episodes often end with one or more of the main characters dying. Situations often involve the Aqua Teens being visited by strange monsters and extraterrestrial beings, most of whom are of little power or consequence. An initially structured plot is often abandoned as characters' actions take the story far afield.
As of 2011, a total of 209 episodes have aired during the show's eight seasons. An episode, entitled "Boston", was meant to air during the fifth season, but was pulled to avoid further controversy surround the 2007 Boston bomb scare,[4] and has never aired or released to the public in any format. On March 1, 2011 Dave Willis announced on Twitter that a ninth season of Aqua Unit Patrol Squad 1 has been ordered. Two scripts have already been written.[5] Since its release, Aqua Teen Hunger Force has developed a cult following, and its popularity resulted in three different spin-offs: Spacecataz, Carl, and Soul Quest Overdrive.
Ad blocker interference detected!
Wikia is a free-to-use site that makes money from advertising. We have a modified experience for viewers using ad blockers

Wikia is not accessible if you've made further modifications. Remove the custom ad blocker rule(s) and the page will load as expected.