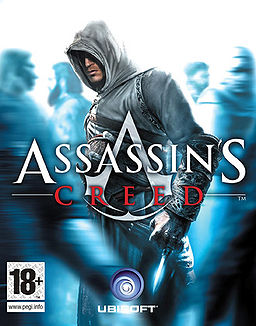 Assassin's Creed is an award-winning historical action-adventure open world stealth video game developed by Ubisoft Montreal forPlayStation 3, Xbox 360, and Microsoft Windows. The bulk of the game takes place during the Third Crusade, with the plot revolving around a sect known as the Secret Order of Hashashin (Assassins). The player is in reality playing as a modern-day man namedDesmond Miles, who through the use of a machine named the "Animus", is allowed the viewing and controlling of the protagonist'sgenetic memories of his ancestors, in this case, Altaïr ibn-La'Ahad, a member of the Assassins.
Through this plot device, details emerge of a struggle between two factions, the Knights Templar and the Assassins, over an artifact known as a "Piece of Eden", an ancient artifact used to control minds. The game primarily takes place during the Third Crusade in the Holy Land in 1191. The game received generally positive reviews, and won several awards at E3 in 2006. The story of a separate assassin, Assassin's Creed II, was released in November 2009. The sequel to Assassin's Creed II, Assassin's Creed: Brotherhood, was released in November 2010. A subsequent sequel, Assassin's Creed: Revelations, was released on November 15, 2011.Assassin's Creed III will be released on October 30, 2012.
Ad blocker interference detected!
Wikia is a free-to-use site that makes money from advertising. We have a modified experience for viewers using ad blockers

Wikia is not accessible if you've made further modifications. Remove the custom ad blocker rule(s) and the page will load as expected.