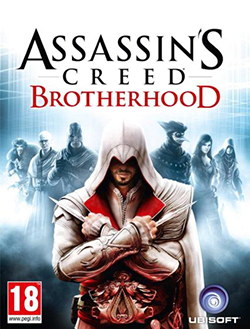 Assassin's Creed: Brotherhood is a historical action-adventure open world stealth video game developed by Ubisoft Montreal forPlayStation 3, Xbox 360, Microsoft Windows and Mac OS X. It was released for PlayStation 3 and Xbox 360 in November 2010, Microsoft Windows in March 2011 and Mac OS X in May 2011.
It is the third major installment in the Assassin's Creed series and the second chapter in the "Ezio Trilogy". The game is a direct sequel to Assassin's Creed II, with Ezio Auditore da Firenze and Desmond Miles returning as the main protagonists, and it takes place right after the conclusion of the previous game's story. It is the first game in the main series to feature a multiplayer mode.Assassin's Creed: Revelations is a sequel to the game, concluding Ezio's story as he travels to Constantinople.
Ad blocker interference detected!
Wikia is a free-to-use site that makes money from advertising. We have a modified experience for viewers using ad blockers

Wikia is not accessible if you've made further modifications. Remove the custom ad blocker rule(s) and the page will load as expected.