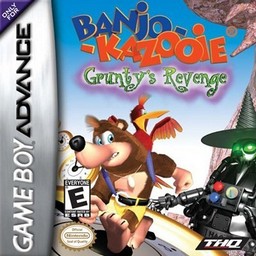 Banjo-Kazooie: Grunty's Revenge is a 2003 handheld action-adventure video game for the Game Boy Advance developed by Rareand published by THQ. It is the third installment in the Banjo-Kazooie series and the second sequel to Banjo-Kazooie for the Nintendo 64.
Grunty's Revenge is a interquel, taking place after Banjo-Kazooie and before Banjo-Tooie. It also contains a time travel plot; its story actually takes place before the events of Banjo-Kazooie. The game used an overhead platform design similar to Conker's Pocket Tales to replicate the 3-D feel of the console entries in the series, but on a smaller scale.
It was the first Rare game released after being purchased by Microsoft from the Stamper Brothers, and the first Banjo-Kazooie game to be released on the portable Game Boy Advance and to only be licensed by Nintendo.
Ad blocker interference detected!
Wikia is a free-to-use site that makes money from advertising. We have a modified experience for viewers using ad blockers

Wikia is not accessible if you've made further modifications. Remove the custom ad blocker rule(s) and the page will load as expected.