Battista (Quackmore, Albert, or Baptist in English[1]) is Scrooge's butler in Italian Disney comics.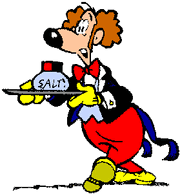 According to the I.N.D.U.C.K.S.[2], he first appeared in a 1967 story written by Rodolfo Cimino and illustrated by Massimo De Vita. The character has only made a handful of appearances in American comic books[3].
In the DuckTales series, Duckworth the Butler is Scrooge's butler.
Ad blocker interference detected!
Wikia is a free-to-use site that makes money from advertising. We have a modified experience for viewers using ad blockers

Wikia is not accessible if you've made further modifications. Remove the custom ad blocker rule(s) and the page will load as expected.