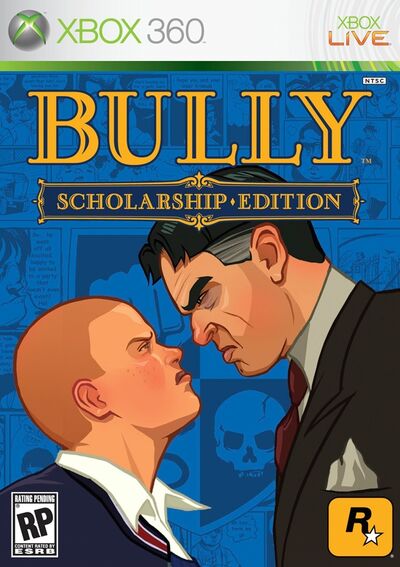 Bully: Scholarship Edition was released for the Wii and Xbox 360 on 3 March 2008. The game features exclusive content which is unavailable in the PlayStation 2 version, including 8 new missions, 4 new characters, 4 new school classes (Biology, Music, Math and Geography) and new unlockable items and clothing. Some small script changes have been made. The random NPCs also have more lines. In addition, single system 2-player competitive multiplayer minigames have also been added, along with Achievements for the Xbox 360 version and Wii Remote and Nunchuk motion and pointer controls for the Wii version. All ports of the Scholarship Edition use the game engine Gamebryo, rather thanRenderware which was used for the PS2 version.[3]
Rockstar Games first announced the game on 19 July 2007.[36] On 6 August 2007, RockstarWatch.net reported on the release of the Australian Bully: Scholarship Edition box art which included artwork of the protagonist, Jimmy Hopkins, and the school principal, Dr. Crabblesnitch.[37] On 3 February 2008, Rockstar announced the game's upcoming release on 4 March 2008 and posted the Scholarship Edition launch trailer at the Bully homepage.
Bully: Scholarship Edition was released in the PAL region under the original Bully title, and not Canis Canem Edit (Latin for "dog eat dog"), as the original game was renamed.[37]The Japanese Xbox 360 version excludes Scholarship Edition from its title. Some retail outlets in Australia have received recall notices for the game on both Wii and Xbox 360. No reason for the recall has been given, but stores have been asked to remove stock from shelves and return it to the distributor.
Ad blocker interference detected!
Wikia is a free-to-use site that makes money from advertising. We have a modified experience for viewers using ad blockers

Wikia is not accessible if you've made further modifications. Remove the custom ad blocker rule(s) and the page will load as expected.