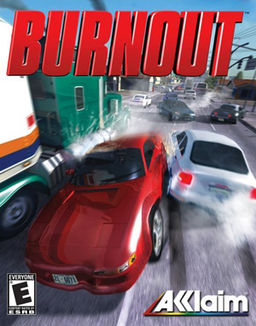 Burnout, (Working Title: Shiny Red Car),[1] is a 2001 racing game developed by Criterion Games and published by Acclaim on thePlayStation 2, Nintendo GameCube and Xbox. The PlayStation 2 version was released in North America on November 1, 2001 and Europe on November 16, 2001.[2] The GameCube version was released in North America on April 29, 2002 and Europe on May 3, 2002.[3] The Xbox version was released in North America on April 30, 2002 and in Europe on May 5, 2002.[1]
Burnout was the first in a series of high-speed racing games noted for over the top crashes and high risk gameplay mechanics. The game's success led to several sequels.
The main gameplay mode in Burnout is the Championship mode, which is a selection of events with three or four races in each. Here the player competes against three other cars on various courses. Each event gets harder and requires the player to use faster cars to reach first place. After completing each event, a Face Off challenge is unlocked which in turn unlocks a new car if won. Other modes include single race, time attack, and multiplayer. Single race is a mode where the player races against three opponents. In time attack, the player must finish a lap in a certain amount of time.
Ad blocker interference detected!
Wikia is a free-to-use site that makes money from advertising. We have a modified experience for viewers using ad blockers

Wikia is not accessible if you've made further modifications. Remove the custom ad blocker rule(s) and the page will load as expected.