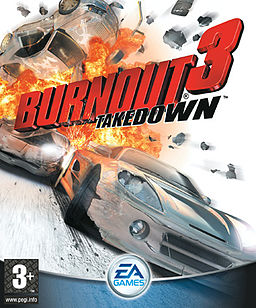 Burnout 3: Takedown is the third game in the Burnout series of video games. Released on September 7, 2004, developed byCriterion Games and published by Electronic Arts (the first Burnout game EA published), the game drew critical acclaim and a large fanbase.
A GameCube version was planned but was scrapped during development. The game was delayed for release in 2003 because of its original publisher Acclaim Entertainment going bankrupt. The game was then picked up by Electronic Arts, the game was then further delayed as changes were made to the game. It is also the only game in the series that received a T rating by the ESRB, making it the last game in the series to be released before the E10+ rating debuted on March 2, 2005. A 5 lapped race demo was and is still available in the EA game Need For Speed: Underground 2. EA Games shut down all network services on April 15, 2010. It is the longest Burnout game to ever have 6th gen console online support.
Ad blocker interference detected!
Wikia is a free-to-use site that makes money from advertising. We have a modified experience for viewers using ad blockers

Wikia is not accessible if you've made further modifications. Remove the custom ad blocker rule(s) and the page will load as expected.