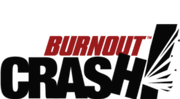 Burnout Crash (branded Burnout CRASH!) is a downloadable action driving title in the Burnout video game series. It is developed byCriterion Games and published by Electronic Arts for PlayStation 3, Xbox 360 and iOS via PlayStation Network, Xbox Live Arcadeand iTunes App Store.[1]
In Burnout Crash, players drive into an intersection and attempt to cause as big a pile-up as possible. Unlike previous games in the series, Burnout Crash is played from a top-down perspective. Points are earned for causing damage and destroying the environment and other vehicles. Leaderboards powered by EA's Autolog service enable players to compare scores with other players.[2]
The game features three game modes and 18 different intersections to play. The Xbox 360 version of the game also includes aKinect mode, allowing players to use gestures to control the game.[3]
Ad blocker interference detected!
Wikia is a free-to-use site that makes money from advertising. We have a modified experience for viewers using ad blockers

Wikia is not accessible if you've made further modifications. Remove the custom ad blocker rule(s) and the page will load as expected.