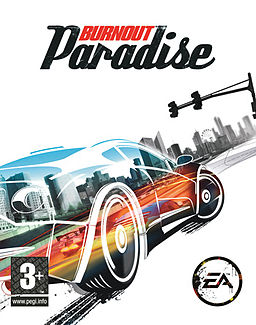 Burnout Paradise is the seventh game in the Burnout racing video game series. It was developed by Criterion Games and published by Electronic Arts. It was released in January 2008 for PlayStation 3 and Xbox 360 and on February 5, 2009 forMicrosoft Windows. It was also released on the PlayStation Store in September 2008 and via Xbox Live Marketplace's Games on Demand August 25, 2009. It was later added to the libraries of Greatest Hits and Platinum Hits titles.
Paradise's gameplay is set in the fictional "Paradise City", an open world in which players can compete in several types of races. Players can also compete online, which includes additional game modes, such as "Cops and Robbers". Several free game updates introduce new features such as a time-of-day cycle and motorcycles. The game also features paiddownloadable content in the form of new cars and the fictional "Big Surf Island".
The game was received well by critics, with aggregate score sites GameRankings reporting an average score of 88% andMetacritic reporting an average score of 88 out of 100. The game won several awards in 2008, with Spike TV, Gametrailers and GameSpot all awarding it Best Driving Game. Reviewers felt the game had an excellent sense of speed, and praised the open world gameplay, a first for the Burnout series.
Ad blocker interference detected!
Wikia is a free-to-use site that makes money from advertising. We have a modified experience for viewers using ad blockers

Wikia is not accessible if you've made further modifications. Remove the custom ad blocker rule(s) and the page will load as expected.