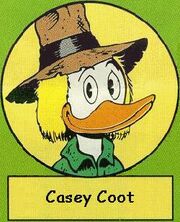 Casey Coot first appeared in "Last Sled to Dawson", first published in June, 1988. He is introduced as an unsuccessful gold prospector and friend of Scrooge McDuck during his years inKlondike. In need of money he sold to the significantly more successful Scrooge McDuck his share in Duckburg, Calisota, USA. His share included "Killmule Hill" which renamed to "Killmotor Hill" comprises the land where Scrooge's money bin stands on. He later appeared in The Life and Times of Scrooge McDuck Part 8 and Hearts of the Yukon. In The Life and Times of Scrooge McDuck Part 10 it is revealed that he and Grandma Duck are brother and sister.
In Don Rosa's Duck Family Tree he is featured as a grandson of Cornelius Coot, a son of Clinton Coot and his wife Gertrude Gadwall. According to the tree he was married to Gretchen Grebe and they had at least two kids named Fanny Coot and Cuthbert Coot. He is also the grandfather of Gus Goose. It's interesting to note that Donald has one granduncle on father's side, Casey, and one uncle on mother's side, Scrooge, that are close in age. It has been suggested that he is also the grandfather of Kildare Coot although Rosa has not used the latter in his stories or tree.
According to Don Rosa's unofficial timelines, Casey Coot was born in 1860 and died sometimes before 1970.
Ad blocker interference detected!
Wikia is a free-to-use site that makes money from advertising. We have a modified experience for viewers using ad blockers

Wikia is not accessible if you've made further modifications. Remove the custom ad blocker rule(s) and the page will load as expected.