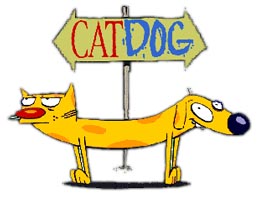 CatDog is an American animated television series which first aired on April 4, 1998, and ended with an unaired episode on September 22, 2004. The series was created for Nickelodeon by Peter Hannan. It was also shown as a sneak peek in theaters with The Rugrats Movie. The series depicts the life of conjoined brothers, with one half being a cat and the other a dog. Nickelodeon at first ordered 40 episodes and planned to debut it in spring 1998. Nick produced the series from Burbank, California, United States. The show had average ratings, but it managed to maintain a moderate yet loyal fan base. Towards the end of the series run, a made-for-TV movie was released, titled CatDog: The Great Parent Mystery. Reruns are played on Nicktoons. The show is produced by Nickelodeon Network and Peter Hannan Productions. Its distributors are Nickelodeon Network and YTV
Ad blocker interference detected!
Wikia is a free-to-use site that makes money from advertising. We have a modified experience for viewers using ad blockers

Wikia is not accessible if you've made further modifications. Remove the custom ad blocker rule(s) and the page will load as expected.