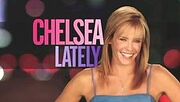 Chelsea Lately is an American late night comedy talk show hosted by comedian Chelsea Handler on E!. The show debuted on July 16, 2007, and is produced by Handler's production company, Borderline Amazing Productions. It is taped in Los Angeles, California.[1] In March 2009, it was announced that the show's run has been extended through 2012.[2]
In American markets the show airs at 11:00 p.m.[3] but is recorded at 3:30 p.m., usually the same day.[4]
The series has one spin-off, After Lately, which premiered in early 2011.
Ad blocker interference detected!
Wikia is a free-to-use site that makes money from advertising. We have a modified experience for viewers using ad blockers

Wikia is not accessible if you've made further modifications. Remove the custom ad blocker rule(s) and the page will load as expected.