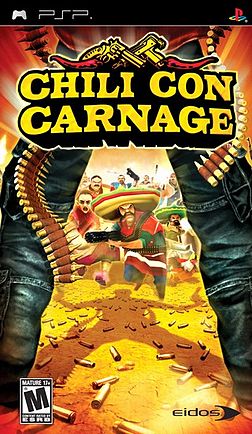 Chili Con Carnage is an action/adventure third-person shooter video game. It plays very closely to the terms of Max Payne, but is not as themed toward Grand Theft Auto as its predecessor Total Overdose was. Chili Con Carnage is developed by Deadline Gamesand published by Sci Entertainment in Europe and by Eidos in North America. Total Overdose was released September 27, 2005. Chili Con Carnage is not actually a true sequel to Total Overdose, as it goes by a different title and has a story that has nothing to do with Total Overdose. Many reviews of the game classify it as a remake of Total Overdose for the PlayStation Portable.
The player character is Ramiro "Ram" Cruz, an athletic wisecracker. Ramiro, after witnessing his father Ernesto being murdered(along with some kittens, which were Ram's birthday present to his father) in a freak combine harvester accident, wants revenge on the culprits responsible. On his quest for redemption, the player will be taking down sinister drug lords, cutting through corrupt banditos, and battling it out with femme fatales, crooked mercenaries, and even ritualistic zombies. In between the missions the player can choose to play mini games, in each of which the player is dropped right into the middle of a situation and must complete a number of moves (Fly on the Wall, Burrito Blast, Etc.) with a limited number of enemies, or beat a set score in a limited amount of time. There is no free roaming option in Chili Con Carnage.
Ad blocker interference detected!
Wikia is a free-to-use site that makes money from advertising. We have a modified experience for viewers using ad blockers

Wikia is not accessible if you've made further modifications. Remove the custom ad blocker rule(s) and the page will load as expected.