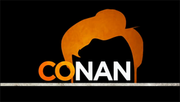 Conan is an American late-night talk show airing each Monday through Thursday on TBS in the United States. The hour-long show premiered on November 8, 2010, and is hosted by writer, comedian and performer Conan O'Brien, after whom the show is named. O'Brien previously hosted NBC's Late Night with Conan O'Brien for 16 years, before hosting The Tonight Show for seven months until a conflictbetween he, Jay Leno (his Tonight Show precedessor) and NBC resulted in O'Brien's departure from the show and the network.
Describing itself as a traditional late-night talk show, Conan draws its comedy from recent news stories, political figures and prominent celebrities, as well as aspects of the show itself. Like O'Brien's Tonight Show before it, Conan retains many elements of Late Night with Conan O'Brien, typically featuring a monologue, one or more comedy sketches, a celebrity interview, with and either a musical or comedy performance.
Sidekick Andy Richter, who first supported O'Brien on Late Night as sidekick from 1993 to 2000 and returned as announcer for O'Brien'sTonight Show in 2009, continues as O'Brien's announcer and sidekick on Conan. Music for the show is provided by Jimmy Vivino and the Basic Cable Band, an iteration of the bands that back O'Brien on his previous two shows, minus then-bandleader Max Weinberg.
On TBS, Conan airs Mondays through Thursdays beginning at 11:00 p.m. eastern time, followed by Lopez Tonight. Conan's hour-long 11 p.m. timeslot directly competes with Comedy Central's The Daily Show with Jon Stewart and The Colbert Report, as well as the first 25 minutes of NBC's The Tonight Show with Jay Leno and CBS's Late Show with David Letterman.[
Ad blocker interference detected!
Wikia is a free-to-use site that makes money from advertising. We have a modified experience for viewers using ad blockers

Wikia is not accessible if you've made further modifications. Remove the custom ad blocker rule(s) and the page will load as expected.