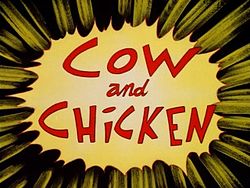 Cow and Chicken is an American animated series, created by David Feiss. The series shows the surreal adventures of a cow, named Cow, and her chicken brother, named Chicken. They are often antagonized by "The Red Guy", who poses as various characters to scam or hurt them. The series was nominated for an Emmy Award in 1996 and 1998.[1]
Like Dexter's Laboratory and some other Cartoon Network series from the 1990s, the original pilot appeared as an episode of the seriesWhat a Cartoon!, the brain child of Fred Seibert, then president of Hanna-Barbera. The Cow and Chicken series first broadcast on Cartoon Network from 1997 to the year 1999, with reruns airing prominently on the network until 2004. Late into the series run, the characters I.M. Weasel and I.R. Baboon, who were part of the series recurring segment, I Am Weasel, were another counterpart into their own series. Reruns are played on Boomerang, which are rated TV-Y7.
Ad blocker interference detected!
Wikia is a free-to-use site that makes money from advertising. We have a modified experience for viewers using ad blockers

Wikia is not accessible if you've made further modifications. Remove the custom ad blocker rule(s) and the page will load as expected.