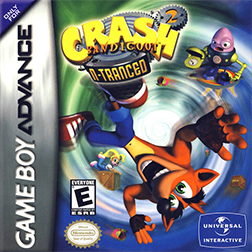 Crash Bandicoot 2: N-Tranced, released in Japan as Crash Bandicoot Advance 2: Gurugurusaimin Dai Panic!? (クラッシュ・バンディクー アドバンス2 ぐるぐるさいみん大パニック!??) is a platform game published by Universal Interactive Studios (Konami for Japan) and developed by Vicarious Visions for the Game Boy Advance. It was released in North America on January 7, 2003, in Europe on March 14, 2003 and in Japan on December 4, 2003.[2]
Crash Bandicoot 2: N-Tranced is the eighth installment in the Crash Bandicoot video game series and the second Crash Bandicootgame to be released on a handheld console. The game's story centers on the exploits of the main character, Crash Bandicoot, as he rescues his friends from the hypnosis of the main antagonist Doctor Nefarious Tropy and his ally N. Trance.
Ad blocker interference detected!
Wikia is a free-to-use site that makes money from advertising. We have a modified experience for viewers using ad blockers

Wikia is not accessible if you've made further modifications. Remove the custom ad blocker rule(s) and the page will load as expected.