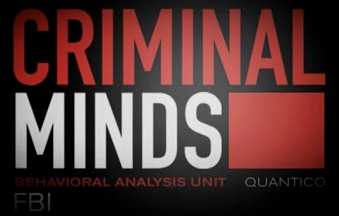 Criminal Minds is an American police procedural drama that premiered September 22, 2005, on CBS. The series follows a team of profilers from the FBI's Behavioral Analysis Unit (BAU) based in Quantico, Virginia. The BAU is part of the FBI National Center for the Analysis of Violent Crime. Criminal Minds differs from many procedural dramas by focusing on the criminal rather than the crime itself. The show is produced by The Mark Gordon Company in association with CBS Television Studios and ABC Studios.
On May 18, 2011, CBS renewed the series for a seventh season which will premiere on September 21, 2011.
CBS announced in October 2009 that Legacy Interactive will develop a video game based on the show. The game will require players to examine crime scenes for clues to help solve murder mysteries. The game is scheduled to come out in late 2011.
Initially, the series centered on Jason Gideon (Mandy Patinkin), Aaron Hotchner (Thomas Gibson), and the rest of the Behavioral Analysis Unit, hereafter referred to as the BAU team. For the first season, that team is composed of Elle Greenaway (Lola Glaudini), Derek Morgan (Shemar Moore), Dr. Spencer Reid (Matthew Gray Gubler), Jennifer "JJ" Jareau, (AJ Cook), and Penelope Garcia (Kirsten Vangsness). When the series premiered, Vangsness was not in the regular cast, appearing instead as a guest star.
[1]
[2]
A scene from the filming of season 6 of Criminal Minds.
During the second season, Greenaway left after the sixth episode and is replaced in the ninth episode of that season by Emily Prentiss (Paget Brewster). At the start of the third season, Gideon departs after the second episode and is replaced several episodes later by David Rossi (Joe Mantegna). During the sixth season, JJ leaves after the second episode. A new character Ashley Seaver (Rachel Nichols) is introduced in Season 6. Also, later on in the sixth season, Prentiss leaves the show. AJ Cook returned to the show to participate in Brewster's final episode, billed as a "special guest star".
For the seventh season, it was announced that Cook signed a two year contract to return as a series regular at the end of the sixth season and for the beginning of the seventh season and it was also announced that Brewster would actually be returning as Prentiss as a series regular for season seven.Nichols' contract was not extended for season seven, meaning she will be departing the cast. Moore's and Gibson's contracts were both renewed and their salaries were both raised.
Ad blocker interference detected!
Wikia is a free-to-use site that makes money from advertising. We have a modified experience for viewers using ad blockers

Wikia is not accessible if you've made further modifications. Remove the custom ad blocker rule(s) and the page will load as expected.