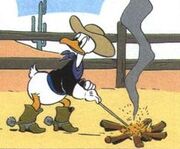 Cuthbert Coot was introduced in the story "Webfooted Wrangler," first published in April 1945, as a distant cousin of Donald Duck and a rancher. In Don Rosa's Duck family tree he is included as a member of the Coot Kin and more specifically as son of Casey Coot and his wife Gretchen Grebe, which makes him a nephew of Elvira Coot, a brother of Fanny Coot, a first cousin of Quackmore Duck, a first cousin once removed of Donald Duck and an uncle of Gus Goose.
Ad blocker interference detected!
Wikia is a free-to-use site that makes money from advertising. We have a modified experience for viewers using ad blockers

Wikia is not accessible if you've made further modifications. Remove the custom ad blocker rule(s) and the page will load as expected.