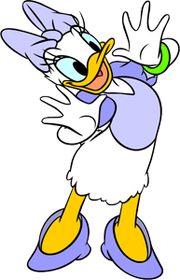 Daisy Duck is one of Walt Disney's cartoon and comic book characters. She was created as a female counterpart and girlfriend to Donald Duck, and first appeared in the cartoon "Mr. Duck Steps Out" in 1940. Daisy has Donald's temper but has far greater control of it (although on rare occasions, her temper can burst out and she can get into rages similar to Donald's), and tends to be more sophisticated than her boyfriend. She usually wears either no pants herself or a dress. She is mostly shown as showing a strong affinity towards Donald.
Ad blocker interference detected!
Wikia is a free-to-use site that makes money from advertising. We have a modified experience for viewers using ad blockers

Wikia is not accessible if you've made further modifications. Remove the custom ad blocker rule(s) and the page will load as expected.