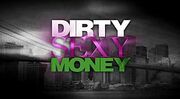 Dirty Sexy Money is an American prime time drama series created by Craig Wright, which ran on the ABC from September 26, 2007 to August 8, 2009. The series was produced by ABC Studios, Bad Hat Harry Productions, Berlanti Television and Gross Entertainment. Wright serves as an executive producer alongside Greg Berlanti, Bryan Singer, Matthew Gross, Peter Horton and Josh Reims, with Melissa Berman producing.[1]
The series revolves around lawyer and family man Nick George, portrayed by Peter Krause. When Nick's father mysteriously dies in a plane crash, he agrees to take his position as the Darling family's lawyer, while trying to discover who committed the murder. The Darlings, the richest family in New York, constantly rely on Nick to solve their problems. Nick struggles to balance his morals and family life while dealing with the demands of the Darlings.
Ad blocker interference detected!
Wikia is a free-to-use site that makes money from advertising. We have a modified experience for viewers using ad blockers

Wikia is not accessible if you've made further modifications. Remove the custom ad blocker rule(s) and the page will load as expected.