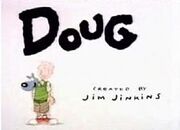 Doug is an American animated sitcom created by Jim Jinkins and co-produced by his studio, Jumbo Pictures, and the French studio Ellipse Programmé. Doug centers on its title character, Douglas "Doug" Funnie (Billy West, later Tom McHugh), who takes the role of the common man who has a goal in life and a certain amount of bad luck. Many episodes center around his attempts to woo fellow classmate Patti Mayonnaise. Doug originally aired on Nickelodeon in the United States. It, along with Rugrats and The Ren & Stimpy Show, comprised the original three Nicktoons, premiering simultaneously on August 11, 1991. After the series originally ended in 1994, production moved to Disney and the series aired on ABC as part of the Disney's One Saturday Morning programming block. The ABC version aired from 1996 to 1999 and spawned a feature film. In 2011, the Nickelodeon version became syndicated on TeenNick as part of its The '90s Are All That block.
Ad blocker interference detected!
Wikia is a free-to-use site that makes money from advertising. We have a modified experience for viewers using ad blockers

Wikia is not accessible if you've made further modifications. Remove the custom ad blocker rule(s) and the page will load as expected.