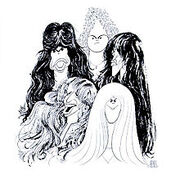 Draw the Line is the fifth album by American rock band Aerosmith, released December 1, 1977. The album was recorded in an abandoned convent near New York City, rented out for that purpose.[4] The band lived there while recording the album, doing drugs, sleeping, eating, shooting guns, and driving their sports cars in between recording sessions.
At the time of release the band was considered big enough that the name didn't appear on the front of the album artwork. The portrait of the band was drawn by renowned celebrity caricaturist Al Hirschfeld.
Ad blocker interference detected!
Wikia is a free-to-use site that makes money from advertising. We have a modified experience for viewers using ad blockers

Wikia is not accessible if you've made further modifications. Remove the custom ad blocker rule(s) and the page will load as expected.