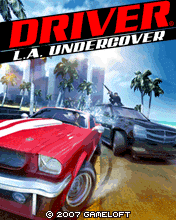 Driver: L.A. Undercover is a mobile game created by Ubisoft and Gameloft. The game was released on May 11, 2007. The game is not a part of the main series canon.The story starts off two years after Driver: Vegas. Tanner surprisingly looks younger and during the two years was a race car driver. 'Chuck' the chief of police reemployed him not because he wants Tanner back but because the HQ wants him back. He goes undercover to take down the Los Angeles Mafia by working his way up the ladder. He starts off by proving himself to Slick E. which then leads Tanner onto his boss Mme Babs which then leads him onto the L.A. Mafia crime boss, Don Lug.
Ad blocker interference detected!
Wikia is a free-to-use site that makes money from advertising. We have a modified experience for viewers using ad blockers

Wikia is not accessible if you've made further modifications. Remove the custom ad blocker rule(s) and the page will load as expected.