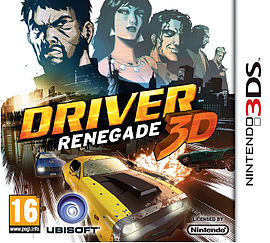 Driver Renegade is a video game, developed Ubisoft, and was released in August 30, 2011 for the Nintendo 3DS.[1] It is part of the Driver series. The game includes over 100 missions and up to 50 cars that can be tuned in the garage. There also is Rage bar to take down enemy vehicles. It also includes 7 challenges including Time Attack, Elimination Mode and Road War.[2] According to the Nintendo eShop on the Nintendo 3DS, the game will support the StreetPass feature along the Nintendo Wi-Fi.
Ad blocker interference detected!
Wikia is a free-to-use site that makes money from advertising. We have a modified experience for viewers using ad blockers

Wikia is not accessible if you've made further modifications. Remove the custom ad blocker rule(s) and the page will load as expected.