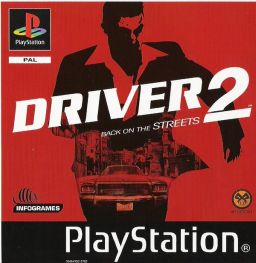 Driver 2: Back on the Streets (named Driver 2: The Wheelman is Back in North America) is the second installment of the Driver video game series.
Driver 2 expands on Driver's 3-D, free-roam structure, as well as adding the ability of the character, Tanner, to step out of his car to explore on foot and commandeer other vehicles in the game's open world environments.[2] The story missions are played separately from the take-a-ride mode where the player can explore the cities in their own time.
Missions in the game are generally vehicle-oriented, and involve trailing witnesses, ramming cars and escaping from gangsters or cops. A cutscene is shown prior to almost every mission to help advance the storyline, and thus the game plays rather like a Hollywood-style car chase movie. Although Tanner can leave his car and interact with certain elements of the environment, all violence takes place during pre-rendered scenes.
While the original PlayStation version offered a two-player split screen play, the Game Boy Advance version introduced a four player link option.[2]
Ad blocker interference detected!
Wikia is a free-to-use site that makes money from advertising. We have a modified experience for viewers using ad blockers

Wikia is not accessible if you've made further modifications. Remove the custom ad blocker rule(s) and the page will load as expected.