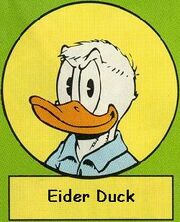 Eider Duck was first mentioned in August 1944 in the story "The Fighting Falcon" by Carl Barks. In this story, Donald receives a falcon as a present by his uncle Eider who does not live in Duckburg. Barks never mentioned Eider again but Don Rosa decided to include him in his Duck Family Tree.
According to Rosa, Eider is the son of Humperdink Duck and Elvira Coot. As of 1902, he worked on his parents' farm. He later married Lulubelle Loon and became the father of at least two sons, Abner and Fethry.
Ad blocker interference detected!
Wikia is a free-to-use site that makes money from advertising. We have a modified experience for viewers using ad blockers

Wikia is not accessible if you've made further modifications. Remove the custom ad blocker rule(s) and the page will load as expected.