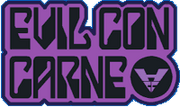 Evil Con Carne is an American animated series/spin-off of Grim & Evil and The Grim Adventures of Billy & Mandy, created by Maxwell Atoms, which first appeared on Cartoon Network during the show Grim & Evil and later became a separate program in 2003, running for one season. The show was repackaged from Grim & Evil, and ended in 2004.
The "Con Carne" of the title is Spanish/Italian for "With cow Meat", as well as a pun on the expression "evil incarnate" and the dish "Chili con carne". The main characters (Hector, Boskov, Ghastly, Skarr and Cod Commando) have made cameo appearances on fellow Grim & Evilsegment program (now defunct as well) The Grim Adventures of Billy & Mandy.
Ad blocker interference detected!
Wikia is a free-to-use site that makes money from advertising. We have a modified experience for viewers using ad blockers

Wikia is not accessible if you've made further modifications. Remove the custom ad blocker rule(s) and the page will load as expected.