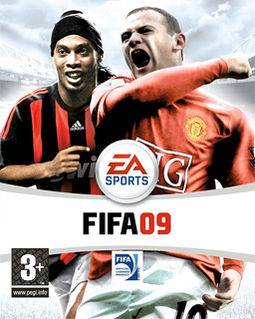 FIFA 09 is the 2008 installment of Electronic Arts' FIFA series of football video games. Developed by EA Canada, it is published by Electronic Arts worldwide under the EA Sports label. It was released in October 2008 for Windows,[2] Nintendo DS, PlayStation 2,PlayStation 3, PlayStation Portable, Wii, Xbox 360 and Zeebo. It was later in November 2008 released for the N-Gage 2.0 andMobile phone.[3][4][5]
The demo was released on 10 September 2008 for Windows[6] and on 11 September 2008 for PlayStation 3 and Xbox 360.[7][8] The PS3 and Xbox 360 demos were identical with the exception of the stadium used with the PS3 featuring the FIWC Stadium and the Xbox 360 version using the new Wembley Stadium. The tagline for the game is "Let's FIFA 09."
Ad blocker interference detected!
Wikia is a free-to-use site that makes money from advertising. We have a modified experience for viewers using ad blockers

Wikia is not accessible if you've made further modifications. Remove the custom ad blocker rule(s) and the page will load as expected.