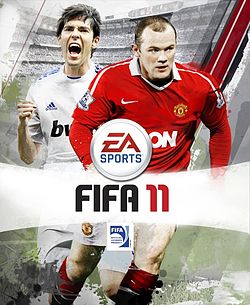 FIFA 11 (FIFA Soccer 11 in North America) is the 18th title in Electronic Arts' FIFA series of football video games. Developed by EA Canada, it was published by Electronic Arts worldwide under the EA Sports label. It was released on 28 September 2010 in North America, 30 September 2010 in Australia, and 1 October 2010 in Europe for all platforms, except the Wii and Nintendo DS. The Wii version was released on 1 October 2010 in North America and Europe and the DS version on 8 October 2010.[1] The PC version ofFIFA 11 is the first in the series to use the same game engine as the PlayStation 3 and Xbox 360 versions. Commentary is provided by Martin Tyler and Andy Gray. The game received positive reviews, and was awarded 'Sports Game of the Year' at the Golden Joystick Awards after a record-breaking 2.06 million votes.
Ad blocker interference detected!
Wikia is a free-to-use site that makes money from advertising. We have a modified experience for viewers using ad blockers

Wikia is not accessible if you've made further modifications. Remove the custom ad blocker rule(s) and the page will load as expected.