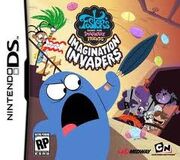 "Foster's Home for Imaginary Friends: Imagination Invaders". It is based on the episode "Make Believe It or Not" where Goo imagines the Evil Space Nut-Boogies. The player controls Bloo using the buttons on the Nintendo DS console. The main objective of the game is to rescue Madame Foster who has been kidnapped by Space Nut Boogies. To do this the player must earn the cooperation of different characters from the television series by performing tasks for them in order to gain their help.
Ad blocker interference detected!
Wikia is a free-to-use site that makes money from advertising. We have a modified experience for viewers using ad blockers

Wikia is not accessible if you've made further modifications. Remove the custom ad blocker rule(s) and the page will load as expected.