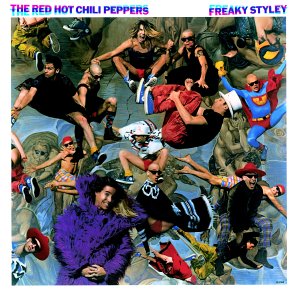 Freaky Styley is the second studio album by American funk rock band Red Hot Chili Peppers, released on August 16, 1985 on EMI America. The album name holds its origins in a commonly used phrase in the 80's to describe anything as being "freaky styley". Freaky Styley marks founding guitarist Hillel Slovak's studio album debut, following his return to the band earlier in the year. The album is also the last to feature drummer Cliff Martinez. Freaky Styley was produced by George Clinton, of Parliament-Funkadelic.'The album yielded three singles: "Jungle Man", "Catholic School Girls Rule" and "Hollywood (Africa)".'According to Jason Birchmeir, of Allmusic, Freaky Styley is "the closest the Red Hot Chili Peppers ever came to straight funk, [it] is the quirkiest, loosest and most playful album in their long and winding catalog. It's also one of the best, if also one of their least heard."
Ad blocker interference detected!
Wikia is a free-to-use site that makes money from advertising. We have a modified experience for viewers using ad blockers

Wikia is not accessible if you've made further modifications. Remove the custom ad blocker rule(s) and the page will load as expected.