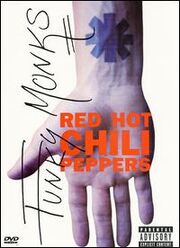 Funky Monks is the title of a 1992 documentary (also the title of a song from the 1991 album Blood Sugar Sex Magik) about the rock band Red Hot Chili Peppers and the recording of their highly successful 1991 Warner Bros. debut Blood Sugar Sex Magik. The album was produced by Rick Rubin and recorded in The Mansion, a supposedly haunted house which Rubin now owns. The 60-minute documentary, which was filmed in black-and-white, features footage of the band recording many of the tracks that made the album, and tracks that were released a few years later (such as "Soul to Squeeze" and "Sikamikanico"). It also features interviews from each member of the band, as well as Rick Rubin. Footage from the documentary was compiled for use in the "Suck My Kiss" music video, which was released in 1992. Funky Monks was originally released on VHS but was re-released on DVD.On July 16, 2011, NME voted Funky Monks the 14th must see rock documentary on their 20 must see rock documentaries list.
Ad blocker interference detected!
Wikia is a free-to-use site that makes money from advertising. We have a modified experience for viewers using ad blockers

Wikia is not accessible if you've made further modifications. Remove the custom ad blocker rule(s) and the page will load as expected.