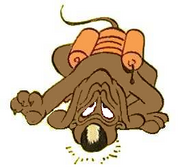 General Snozzie is the official bloodhound for The Junior Woodchucks of Duckburg. He has the ability to sniff out a substance on command. He sometimes joins Huey, Dewey and Louie, Donald Duck, and Scrooge McDuck on their adventures.
He first appeared in Walt Disney's Comics and Stories #213 in the story Dodging Miss Daisy, where he helped Daisy Duck and the boys track down Donald. In the story W.H.A.D.A.L.O.T.T.A.J.A.R.G.O.N. by Don Rosa, General Snozzie was just a puppy; back then he was called Major Snozzie. General Snozzie wasn't the only mascot of The Junior Woodchucks. Bolivar was a Junior Woodchucks mascot at one point, and Pluto also was a Junior Woodchucks mascot in some stories
Ad blocker interference detected!
Wikia is a free-to-use site that makes money from advertising. We have a modified experience for viewers using ad blockers

Wikia is not accessible if you've made further modifications. Remove the custom ad blocker rule(s) and the page will load as expected.