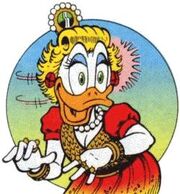 Goldie O'Gilt a.k.a. Glittering Goldie is Scrooge's secret sweetheart. Originally created by Carl Barks as a character in the comic Back to the Klondike, Goldie's origins are as a music hall singer in Dawson. In a flashback sequence, Scrooge catches Goldie in an attempt to rob him of his recent gold poke, and is forced to repay the debt by helping him work at his claim at White Agony Creek. Some 50 years later, they meet again and it is revealed that Goldie is now poor and living alone at Scrooge's former claim in Yukon.
Barks only used the character once, but Goldie and her relationship with Scrooge was later picked up and expanded by other creators. One of these was Don Rosa who used her in several stories, including The Life and Times of Scrooge McDuck and Last Sled to Dawson, where it is implied that Scrooge and Goldie fell in love with each other, but never revealed their feelings of affection to the other one, and eventually drifted apart as Scrooge travelled across the world and became a trillionaire, while Goldie remained in Dawson.
Carl Barks drew inspiration for Glittering Goldie's character from Kathleen Rockwell("Klondike Kate" Rockwell).
Ad blocker interference detected!
Wikia is a free-to-use site that makes money from advertising. We have a modified experience for viewers using ad blockers

Wikia is not accessible if you've made further modifications. Remove the custom ad blocker rule(s) and the page will load as expected.