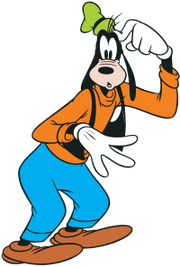 Goofy is an animated cartoon character from Walt Disney's Mickey Mouse universe. He is one of Mickey Mouse's best friends. His original concept name was "Dippy Dawg" in cartoon shorts created during the 1930s; then his name was given as "George Geef" or "G.G. Geef" in cartoon shorts during the 1950s, implying that "Goofy" was a nickname. In Goofy Gymnastics, and Mickey Mouse Clubhouse, he fills out a coupon with the name "James Boyd" (actually the name of a Disney staffer who worked on the cartoon). Some 1990s sources, including theGoof Troop television show and A Goofy Movie, gave the character's full name to be Goofy Goof; the Goof Troop pilot also refers to 'G. G. Goof' on a diploma, likely a reference to the 1950s name. In many other sources (both animated and comics), the surname Goof continues to be used; in other recent comics, the character's full name has been given as Goofus D. Dawg, a name that was used as early as 1957 in the "Great gawrsh-durn champion" by Romano Scarpa and possibly earlier.
Along with being predictably clumsy, Goofy is often shown as having little to no intelligence. But this interpretation isn't always definitive; occasionally, Goofy is shown as intuitive and clever, albeit in his own unique, eccentric way. His birthday is May 25, 1932.
Ad blocker interference detected!
Wikia is a free-to-use site that makes money from advertising. We have a modified experience for viewers using ad blockers

Wikia is not accessible if you've made further modifications. Remove the custom ad blocker rule(s) and the page will load as expected.