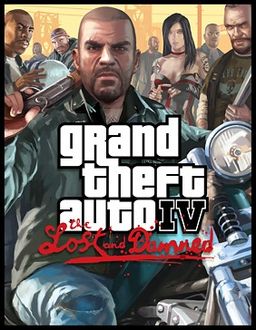 Grand Theft Auto: The Lost and Damned, originally known as Grand Theft Auto IV: The Lost and Damned, is the first of twoepisodic expansion packs developed for the Xbox 360, PlayStation 3 and PC versions of Grand Theft Auto IV, developed byRockstar North in the United Kingdom. It was first released for the Xbox 360 on 17 February 2009[3] and on PlayStation 3 andMicrosoft Windows on 13 April 2010.[2] It is the third expansion pack game in the Grand Theft Auto series (the first since Grand Theft Auto: London, 1961, released in 1999), and the twelfth release overall.
The Lost and Damned features a new protagonist, Johnny Klebitz, who is a member of Liberty City's biker gang The Lost, a gang which is featured in missions throughout the course of Grand Theft Auto IV. Dan Houser, vice president of creative development at Rockstar Games, claims the episode will show "a different side of Liberty City".[4] Jeronimo Barrera, Vice President of Product Development for Rockstar Games, has said that the episodes are experiments because they are not sure that there are enough users with access to online content on the Xbox 360.[5] Take-Two Interactive's Chief Financial Officer, Lainie Goldstein revealed that Microsoft was paying a total of $50 million for the first two episodes.[6]
A combined standalone disc-based package titled Grand Theft Auto: Episodes From Liberty City, which does not require the original Grand Theft Auto IV game to be played, was released and contains both The Lost and Damned and Grand Theft Auto: The Ballad of Gay Tony.[7]
Ad blocker interference detected!
Wikia is a free-to-use site that makes money from advertising. We have a modified experience for viewers using ad blockers

Wikia is not accessible if you've made further modifications. Remove the custom ad blocker rule(s) and the page will load as expected.