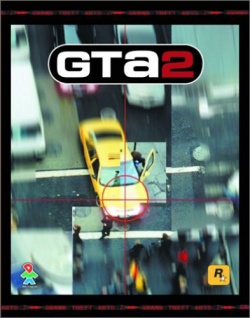 Grand Theft Auto 2, or GTA 2, is the second major installment in the Grand Theft Auto series. It was released worldwide on October 22, 1999, by developer Rockstar North (then known as DMA Design), for the PC and PlayStation. A version for the Dreamcast console was made available, and later a toned-down version for Game Boy Color. The game is also available for download for the PlayStation Portable.The PC version of the game is now available for free download here*, along with Grand Theft Auto 1, and another Rockstar game, Wild Metal: Reclaim the Future. However, this requires the registration to Rockstar Games' mailing list. Although it is not the original game, it has been remade to work on modern Windows operating systems. *http://www.rockstargames.com/classics/
Ad blocker interference detected!
Wikia is a free-to-use site that makes money from advertising. We have a modified experience for viewers using ad blockers

Wikia is not accessible if you've made further modifications. Remove the custom ad blocker rule(s) and the page will load as expected.