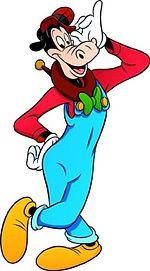 Horace Horsecollar is a funny animal cartoon character created by Ub Iwerks and Walt Disney. He is an anthropomorphic horse, one of Mickey Mouse's best friends. Horace first appeared as Mickey's plough horse in the cartoon "The Plow Boy" in 1929.[2] He next appeared later that same year, in "The Jazz Fool", and after that he became a regular member of the Disney supporting cast, along with Clarabelle Cow, Clara Cluck and others even more minor. Characterized as a cheerful know-it-all, Horace helped Mickey on his sleuthing expeditions in the comics before Goofy assumed that role. In recent years, Horace has more commonly appeared in Mickey Mouse Works and Disney's House of Mouse.
Ad blocker interference detected!
Wikia is a free-to-use site that makes money from advertising. We have a modified experience for viewers using ad blockers

Wikia is not accessible if you've made further modifications. Remove the custom ad blocker rule(s) and the page will load as expected.