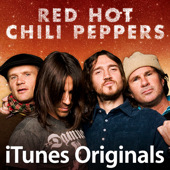 iTunes Originals – Red Hot Chili Peppers is a virtual album by the Red Hot Chili Peppers which was released only on the iTunes Store as part of the iTunes Originals series of digital albums. It features live versions of the band playing some of their more famous songs as well as featuring the band themselves talking about their careers. It comprises videos of their live performances for the iTunes Originals as well as interviews about their careers, featuring the members of the band and Rick Rubin. It is a video album.
Ad blocker interference detected!
Wikia is a free-to-use site that makes money from advertising. We have a modified experience for viewers using ad blockers

Wikia is not accessible if you've made further modifications. Remove the custom ad blocker rule(s) and the page will load as expected.