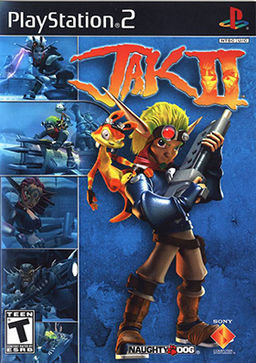 Jak II, (Jak II: Renegade in Europe and Jak and Daxter II in Japan), is a platform game developed by Naughty Dog. Released for the PlayStation 2 game console on October 14, 2003 in North America, October 17, 2003 in Europe and March 11, 2004 in Japan. It is the second game of the Jak and Daxter series and is the sequel to Jak and Daxter: The Precursor Legacy. It was followed byJak 3 a year later.
The game features new weapons and devices, new playable areas, and a storyline that picks up after the events of The Precursor Legacy. The game's plot was noted for being much darker than its predecessor's. As in the previous game, the player takes on the dual role of recurring protagonists Jak and Daxter. There are also a new array of characters such as Torn, Erol, Krew, Kor, Ashelin, and Sig, as well as some returning ones, such as Samos and Keira. Jak II is both a sequel and prequel to the first game.
Jak II is the only game in the series in which the versions for English-speaking regions feature the Japanese and Korean voiceover track. The voiceover cast features many notable seiyūs, including Shotaro Morikubo as Jak. The other games in the series did not follow suit, leaving the voices to be exclusive to the Japanese and Korean regions. This was also technically the last Jak and Daxter game to be released in Japan until The Lost Frontier in 2009.
Ad blocker interference detected!
Wikia is a free-to-use site that makes money from advertising. We have a modified experience for viewers using ad blockers

Wikia is not accessible if you've made further modifications. Remove the custom ad blocker rule(s) and the page will load as expected.