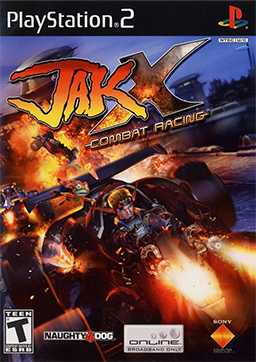 Jak X: Combat Racing (Jak X in Europe), is a vehicular combat game video game developed by Naughty Dog and published bySony Computer Entertainment for the PlayStation 2 and first released in North America on October 18, 2005, then in Australia on October 26, 2005 and then in Europe on November 4, 2005. The game is a spin off from Naughty Dog's Jak and Daxter series, though reference is made to the previous games, and it is considered to be part of the main series.
Jak X is modeled after the driving mechanics of Jak 3. Two songs by rock band Queens of the Stone Age, "You Think I Ain't Worth a Dollar But I Feel Like a Millionaire" and "A Song for the Dead", from the album Songs for the Deaf, are featured in the game. Most of the in-game musical tracks were written by Dean Menta of Faith No More and Billy Howerdel of A Perfect Circle, which can be recognized as the darker, more ambient tracks. This was the first Jak & Daxter game to feature multiplayer mode, the second being Daxter for the PlayStation Portable.
Ad blocker interference detected!
Wikia is a free-to-use site that makes money from advertising. We have a modified experience for viewers using ad blockers

Wikia is not accessible if you've made further modifications. Remove the custom ad blocker rule(s) and the page will load as expected.